This module is very useful to all embroiderers. Creating text embroidery is in every day production process. The Text module contains all the required functionality for creating high quality text embroidery designs including 255 pre-digitized fonts for Satin, Piping, Zig Zag! You can create Text embroidery designs with any True Type font installed in your computer! Also, a new feature named "Name Drop" is added, which is an easy way of creating multiple designs with different names!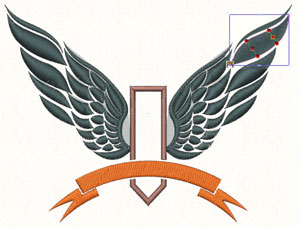 General tools:
Create a New Design
Edit Backdrop properties
Add a Bitmap or Vector image in the design as a backdrop
Auto-Snap on outline or color changes of the Backdrops
Complete Digitizing tools for most stitch types
Change the entry point of the selected object
Change the exit point of the selected object
Available Stitch types for Text input and parameters for the existing punching objects
Re-sequence objects by click and dragging the objects on the Sequence manager
Join the selected Objects
Break apart the selected Objects
Erase outlines of the Punching data objects
Edit Step patterns
Automatic Border option made by Satin serial or Running
Multiple section digitizing (Auto-branches)
Copy an object from one design to another (drag-drop)
Adjust Bezier curves and reposition inserted nodes while digitizing
Copy attributes from one object to the other
Intersect objects and create unique shapes
With the Intersection tool you have the ability to overlap two objects and produce a shape of their intersection. This is a very useful tool that allows you to create shapes that otherwise would take you a lot of time to create.

---